Fonthill Lodge Childcare has been family owned and run since 1989. Our reputation ensures that most of our parents find us through word of mouth.  We strive to provide excellent childcare and education for children by putting our hearts and souls into our company.
We aim to meet the demands of working parents, offering full and part-time care for children from 12 months to 11 years old. Our fees are transparent and fair. We offer sibling discounts and accept NCS and ECCE funding programmes.
Our creches are spacious, purpose built facilities, boasting huge outdoor, all weather, private playgrounds. The rooms are safe, clean and bright and offer plenty of age appropriate toys, resources and equipment. We respect children as individuals and strive to ensure that their needs and preferences are at the centre of everything we do. Our goal is to provide a safe, happy and loving environment for the children to enjoy.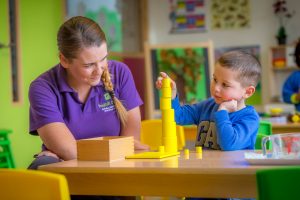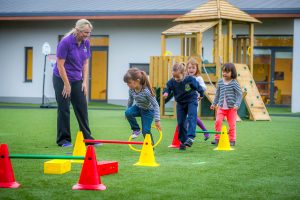 Our amazing team of carefully selected qualified, experienced staff are treated with respect and appreciation, as our most valuable asset. All our kind and caring employees are garda vetted, reference checked, qualified, trained and suitably skilled for each position. We maintain adult : child ratios at all times and we have a large team of Management and cover staff to support our core team at all times. Our staff turnover is low and our team are kind, caring and child focused.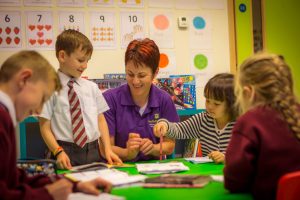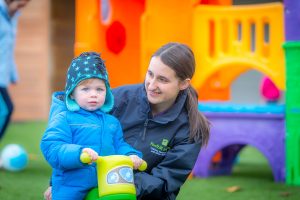 Our curriculum is child-led and focuses on learning through play. We have Montessori equipment in the Pre-school rooms and take inspiration from a variety of approaches. We provide a diverse programme of fun activities and experiences which help each child develop their skills and dispositions. Physical, intellectual, language, social and emotional skills are covered in a holistic approach that encourages children to become independent and confident learners.
We have a healthy eating policy and our cooks prepare nutritious and delicious meals from principle ingredients in our on site kitchens. Breakfast, lunch, dinner, tea and healthy snacks are provided daily. All of our employees are trained in house regularly including First Aid Responder, HACCP safe food, child protection, manual handling, safe sleep, infection control and much more.
Our own children attend our creches and so too do many of our employees children. We have continuously strived to improve our services over the past 30 years and now hold B.A. Hons in Early Years Education. Our ethos is to care for your child as we do our own, while complying with best practices, regulations and professional standards. We are governed by and inspected by Tusla, EHO, HSE, DES and strive for the highest standards of curriculum in accordance with Aistear and Síolta.
Call us and arrange a visit to our creches, where you can see the happy children and feel the homely atmosphere for yourself.
Walkthrough tour of our creches